Dear friends,
We would like to give you notice about project, which came up recently and officially was announced on 14th February 2010 in a New Townhall in Prague during LOSAR, Tibetan New year.
STUPA OF LOVING KINDNESS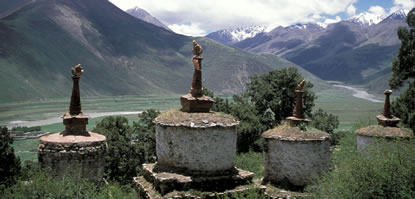 An idea to give a rise to stupa, a building for general well-being, matured. This is the right time to build this stupa in Prague or very close to it. Stupa as a universal symbol of loving and compassionate kindness, understanding, tolerance and a place of meeting between practitioners of different lineages of Buddha´s teaching as well as all fellow citizens who miss these qualities in our society and they wish to reinforce them.
Stupa represents stabilising power in any surrounding, radiates and keeps positive energy of spiritual awakening and enlightenment. Presence of stupa energizes harmony, inner calmness and peace, comfort and happiness, eliminates conflicts, illnesses and harmful energies.
Stupa functions as a real "transmitter" of enlightened mind.
We are convinced that such a building will have positive influence for the whole Czech Republic.
If you are interested in this vision and you want to support it,
please, donate on this account
of Potala c.a.
2788704001/5500
variable symbol: 360


IBAN: CZ6055000000002788704001
SWIFT: RZBCCZPP